"Hora Te Pai" translates as "spreading the blessing and prayers, to give from the heart".
The service stems from the moemoea of the late and respected, Te Peehi Parata, to establish a marae-based health clinic for Māori, building a healthy future for his mokopuna.  It was developed as a vehicle to help maintain Iwi alliances between Te Ātiawa, Ngāti Toa Rangatira and Ngāti Raukawa practitioners.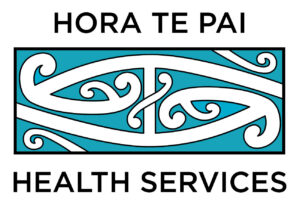 Our Logo (Designed by Garth Cook)
I consider the Central Kowhaiwhai, to be representative of the Whānau Unit, the Koru are the people and the medical unit.
Left side the Whānau and the right side the Hora Te Pai Unit; and the clear lines of the continuation of our health if it could only be disease and virus free.
Blue is to include the colour our Barry chose, the Blue for me is the colour of the Virgin Mary, also for Healing and Peace.
The Koru is enclosed in the Eye of Wisdom, or the Third Eye.